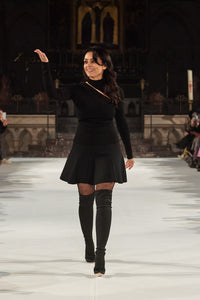 My journey as a creative director and fashion designer is a tapestry woven with passion and love for the art. Born and raised amidst the rich art and culture of Syria, I was immersed in the beauty of ancient ruins that spoke volumes about architectural integrity and timeless elegance. These experiences ignited a fire within me, and an unwavering appreciation for the everlasting allure of exquisite detail. In my mother's closet, I discovered a treasure trove of luxurious masterpieces, each dress whispering stories of divine elegance. As I slipped into those garments, I felt a connection to something greater than myself, and realized that fashion has the power to elevate us to transcendent realms. It became clear that fashion was
my destiny, my way to create art that complements women's beauty.
However, destiny had different plans in store for me. My family and I embarked on a new chapter in the United States, where I encountered the challenges that immigrants often face. Instead of pursuing design, I delved into the world of business. Armed with a degree in business and economics, I established a luxury fashion and lifestyle magazine in Florida. Through this venture, I gained invaluable insights into the business side of fashion.
It was during a trip to Los Angeles for a fashion shoot that the realization struck me like lightning. I didn't want to merely write about or photograph dresses designed by others; I yearned to create my own. Thus began years of intense self-training, immersing myself in the intricacies of haute couture. From studying fabric, embroidery, and merging my values of respecting our human and resource innovations to delving into the wisdom of master artisans, I left no stone unturned in my pursuit of excellence.
In a bold move, during a global pandemic when athleisure dominated and lockdowns prevailed, I launched FOVARI now known as YARA SHOEMAKER, a luxury couture fashion brand for the modern woman. Three years have passed, marked by a whirlwind of emotions, experiences, and invaluable lessons. Above all, I have
realized that my heart resides in the realm of couture, and Paris is its rightful home. Collaborating with an incredible team scattered across Europe, anchored by my remarkable artists in Paris and Milan, we are indeed reinventing couture for the modern woman.
Together, we are reimagining couture for the modern woman. Walking the line between the heritage of Couture, classic and contemporary.
With Love, Yara